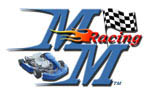 New Chief Operating Officer!

Our new COO is going to address day-to-day operations and order fulfillment. This is a critical team foundation role that will enable MM Racing to expand their product offerings while continuing to give customers the attention they deserve.

If you are interested in products, you can email us at sales@mmracingkarts.com for the latest products and discounts.

You can also shop online in our MM Racing Online Store, or if you prefer, our Amazon.com store and eBay online storefront.