It's April, the weather is changing and you've got the karting itch. MM Racing is having a huge sale on everything they have in stock. If you didn't get everything you wanted under the x-mas tree or your b-day was lacking, then now is the time to stock up!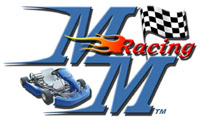 Contact Bridget Kruse, our VP Sales and Marketing, for our latest pricing, multiple item discounts and availability.
If we don't have it in stock, don't worry, we can special order it and still save you money.


Look through our online store, if it comes from Alfano, Bridgestone, Chatterbox, Deepseat, MM Racing, Nevoso Kart, Odenthal, Ribtect, Righetti Ridolfi, SHIFT, Tomar, Vega or others, we can get the part you need, even if you don't see it in our store.
Visit MM Racing's Online Store that is stocked with quality new and used equipment from industry leaders such as; Alfano data acquisition systems, ChatterBox communicators, MM Racing karts, (formally branded as Nevoso Kart), Ribtect carbon-fiber seats, Righetti Ridolfi, SHIFT karting safety equipment, Vega helmets, and more.
MM Racing is committed to providing top-notch customer service and understands that perpetually updating and adding new quality products, although important, is not the only factor in running a successful online store.

"If your customers are not satisfied, you will never succeed," says Todd Jones.